It's been a while since I have not posted any of my illustrations since I was busy doing college stuff and other things such as drawing my characters and coming up with my decisions for one of my projects that I recently planned. But anyway, you may be excepted I have published another new series that I have been working on for weeks; I also have updated my website in which I have modified my website for weeks already. For today, I'll try to do my best to give out an explanation for my website and a new project I have been working like I said earlier. Anyways, let's start things off with my website, shall we?
So, as you are wondering about the new layout of my website; here is the full view of my website as seen from the image below: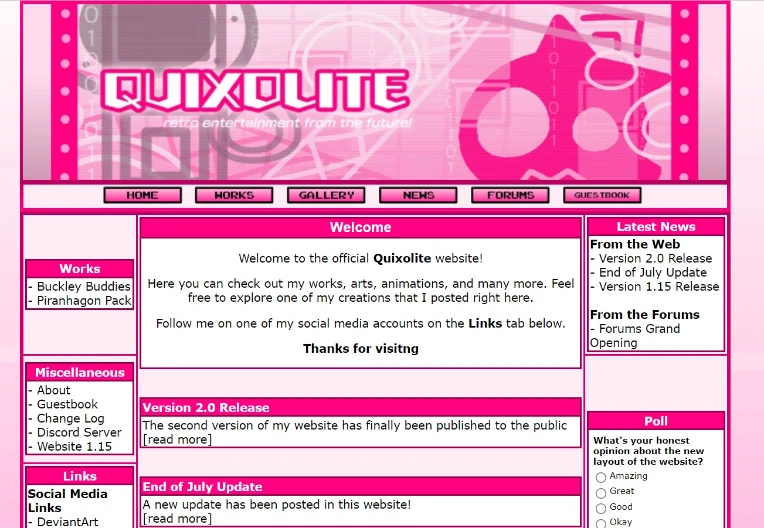 By the title I say about my website, it receives a new layout, now being table based which includes more borders, as well as a new banner and background respectively; I've been working on this for weeks; it turned out to be quite the cup of tea to my taste. On the navigation bar, you will see that the table-based buttons on the navbar now contain regular buttons as these were created by me of course. A custom background has been included for the entire body of my site as well for my new banner that has been established above the navbar. There's also more information about the new layout as it can be viewed on the Version 2.0 Update on my site, unless if you wanted to view the whole information about this new layout as I will link this right down below:
[Version 2.0 Release - Quixolite (neocities.org)]
Now it's time for the moments you guys are willing to be waiting for. I present you the project that I've been developing for over weeks. This project is called Piranhagon Pack.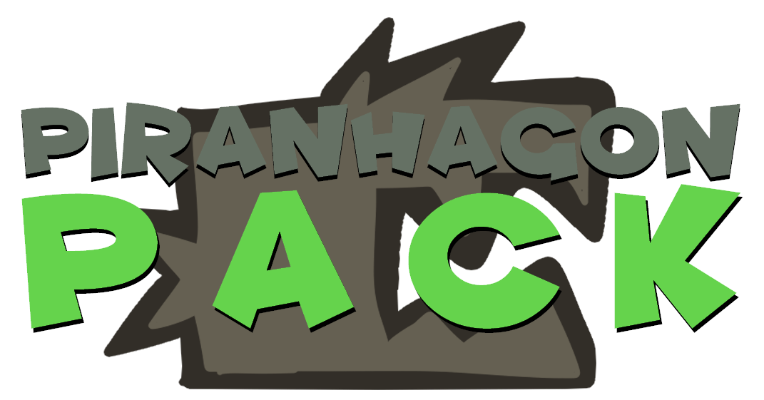 Piranhagon Pack is the second project after I created Buckley Buddies. Unlike my previous project, this project focuses on one of my original species that I recently developed. These species are called Piranhagon. The Piranhagons are dragon-piranha hybrids who has a big appetite for food except for sweets in which they find them to be either disgusting or rather unusual, the Piranhagons love to cause mischief and play pranks on each other and on the animals as well, they also seem to swim slightly faster than a fish and a piranha, but also can survive on land without any suffocations, but perfers to stay underwater for the least. Each Piranhagon has their unique personalities, they also have the ability to speak, however they only speak in gibberish.
This project takes the inspiration from my interest of dragon back around 2010 or 2011 after I watch the first How to Train Your Dragon movie. This is the one movie that I enjoyed watching as a kid as it helped me gain interest about dragons until three years later when I first saw an ad of an app called Dragon City as it skyrocketed my interest in dragons after I downloaded for the first time, and I played this app for the time until I outgrew this game somewhere between 2014 and 2016. This is one of the games that I always have fun experiencing on, and I have a ton of interest on dragons back in the mid-2010s; and this is one of the projects that inspired my interest back when I was a kid, and no doubt that I have a fond memory of playing the kind of dragon games, but no matter how I love them I'm always coming back playing these games for the most part, or probably unlikely.
Originally, this project was going to star with the three protagonist going on adventures through the city in the sewers. But since I find that premise to be unnecessary or otherwise nonsensical, I scrapped the concept as this was not part of my childhood experience and I have to go with this project instead.
I will publish more information about the series very soon, so stay tun for more info about the project in the future, now it's time to enter our last update for the day.
So as you maybe wondering about my project Poltrokaox, I'll explain and elaborate this as possible. As I can tell about the current status of my project, I've been drawing a few concepts and characters for the project; and I was excepted that this game will contain a total of eighteen characters and thinking of what engine would be suitable for my upcoming game. As everything turns out I soon started to realized that this project wasn't going to be the project didn't seem to do well since I didn't find any qualities that I was excepted for the project to be. I doubt that this will be an unpopular decision that I have to elaborate, but I made my choice that I should rework the project into a new one that would reach the quality standards that I expected. So this means the project is not cancelled, it's going to be rebranded as a new game titled "Lazergade".

In this new project that is now rebranded, All the RPG elements and the real-time combat will be included in the game as usual like I said, but the gameplay will be totally different than any other action-RPG games as usual. This game will be developed using Roblox Studio. This game is still in development and I'm not giving up on this project as I continue to do my best to work on this game that I experience before.
That's all for the updates I have for today, if you have questions regarding about the aforementioned updates, please reply to the journal or send me a private message for more information about this. Anyways, thanks for reading.